Three ways to register
for the 2017 Xtreme Roan Adventures.
Pay Online!  Yes, we now have registration available online.
You can pay with a credit card or with PayPal.
Click here to go to secure FormSmart to register online.
2. Pay by mail. Simply click on the 2017 registration form below. Print out the two-page form. Mail the completed form with your check.Mail it to Xtreme Roan Adventures
Mail it to Xtreme Roan Adventures
                P. O. Box 276
                Piney Flats, TN 37686
  or  Bring the form with you to the Adventures on Friday or Saturday.
Download your 2017 registration forms in .PDF here > REGISTRATION FORM.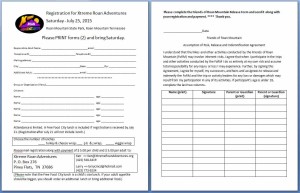 3. Pick up and complete your registration forms at the Adventures on Friday evening, July 28  or on Saturday morning, July 29.  We will have a registration table at the Roan Mountain State Park Amphitheater.
If you have questions with the download send an email to Ken@XtremeRoanAdventures.org
or call me (423) 538 – 3419
Thanks,
Ken