100-Inch Hike
Awesome Xtreme Roan Adventures leaders, Jennifer and Jeremy Stout, share information about the 100-Inch Hike and the Geology of Roan Mountain Adventures that are two of the 23 Adventures coming July 26 & 27, 2013 at Roan Mountain State Park.
One question was emailed to us asking "What is the 100-Inch Hike?" Jennifer Stout is the Adventure Leader for that activity. She explains that it is a way to help young Adventurers "see small things in a big way."
Have a listen: http://www.roanmountainradio.com/
Geology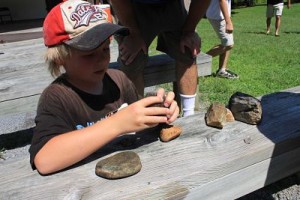 Another exciting Xtreme Roan Adventure: Geology of Roan Mountain will be lead by Jeremy Stout. Listen as he describes the Geology Hike as more than just rocks. This is going to be an Adventure of discovery.  (Be sure to listen to all of Jeremy's recommendations and his "guarantee."
http://www.roanmountainradio.com/
Pass this along to a friend. Adventures like these are meant to be shared!
Go here to see the awesome schedule of twenty-three Adventues to choose from: XRA Schedule.
Here is the link to the registration: XRA Registration