Frequently Asked Questions
Q – What is a 100-inch Hike?
A- This is a great Adventure for any age but is especially designed to interest Junior Adventurers in the wonder of nature on a scale that they can relate to.  It "narrows the landscape" from immense expansion of mountains and forests to an easy to focus 100-inches. The Adventurer will learn to how to study and explore a close-up view of their environment.
Q – What is Orienteering?
A – The Orienteering Adventure is map and compass reading. Your Adventurer will learn how to navigate through  unfamiliar areas by using map and compass skills.
Q – Do I have to register for specific hikes?
A – No. In fact many Adventurers do not decide on which hike to go on until after they talk with the Adventure Leaders on Saturday morning.  Meet and talk with the Adventure Leader. Ask them how difficult or strenuous the Adventure will be. Ask them if it will be appropriate for your child's age. Ask them if they will be getting in the creek. That is why we have many Adventures to choose from.
Q – Lisa asked: Can I bring my 4 year old with me when I bring my 8 year old to the Xtreme Roan Adventures?
A – Yes. Four year olds are welcome. We have added a couple of shorter "Junior Hikes" for them. After these hikes there are other activities that they can do at their own speed.
Q – Is pre-registration required or can I just show up?
A – Yes, pre-registration is required. So that each child can be an active part of each hike, we limit the number of children on each hike to a manageable number. Some hikes fill up very quickly. So be sure to register early.
Q – Ron Asked: How should the kids dress for this?
A. – Thanks Ron, We're glad you asked.  Nora Schubert, experienced XRA field trip leader, says come dressed for outdoor fun. The mountain weather is unpredictable despite the projected forecast for the day. She has these suggestions:
 Wear sturdy close-toe shoes. (Flip-flops are not good hiking shoes.)
Bring long pants. Even if you wear shorts, the weather on top of Roan Mountain can be very cool.
A warm sweater and rain jacket can make a big difference in whether or not one has a pleasant mountain experience.  I always consider these two items "necessary" gear when visiting mountainous areas!  They are invaluable at the higher elevations where temperatures can change quickly and a sudden shower is not out of the norm.  ..
Special instructions for the Stream Ecology Field Trip:
You will be wading into the creek. Wear closed-toe shoes that you can (1) get wet and (2) allow you to avoid sharp objects (rocks and possibly human trash).
Bring spare shoes and socks.
A towel may come in handy too.
Special instructions for the Balds / Goat Hike:
Bring that warm sweater and rain jacket in prep for varying weather extremes on the mountain top.
A hat is a good idea. There is no shade on the balds.
Bring a small day-pack to carry snacks and water for the 2 mile hike.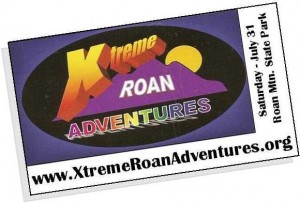 The "Adventure Cards" that I sent to you are just to pass along to friends you would like to join you and your family at the Xtreme Roan Adventures.  I just grabbed three cards to mail to you. If you would like more Adventure Cards to give to more friends please let me know and I'll be happy to send you more.  Ken@XteremeRoanAdventures.org
Q – Does an adult have to accompany each child?  If not, is there a defined ratio of adults/children?
A – Yes. An adult needs to accompany each group of kids. I wouldn't recommend more than five or so kids per adult but we didn't set a ratio. Driving to some activities is necessary.
Q -Are accompanying adults subject to the registration fee?
A – The adults are required to pay the registration fee also.  If registering early, this includes a lunch being provided from Earth Fare.
Q – What is the schedule?
A – Here is the link to the schedule.
Q – Will all children participate in all events or will they choose specific activities?
A – The kids will choose between their favorite Adventures. Several Adventures are scheduled at  the same time so that there should be something of interest at all times.
If your question is not answered here, please let me know and I'll make sure it is answered.
Thanks,  Larry@PorchLightInsects.com
Thanks,  Ken@XtremeRoanAdventures.org