A Minute with Critter Cade – video
Young Naturalist Shares a Minute on the Trail
There were several complimentary comments about the Friends of Roan Mountain Fall Newsletter. Many of those comments were about the article on the 'Amanitas of Roan Mountain"  by Cade Campbell.
For those who do not yet know Cade, this video will help introduce him to you. Spend a minute with Critter Cade and the Hemlock Varnish Shelf Mushroom.
And check out the Full Day of Adventures on Saturday Sept 12, 2015 at the Fall naturalists Rally at Roan Mountain State Park.
Download the Kid's Schedule here.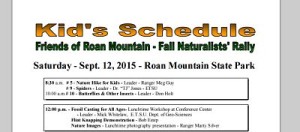 LINKS:
Here is the link to the Adventure All Year calendar.