Spiders at the Fall Naturalists Rally!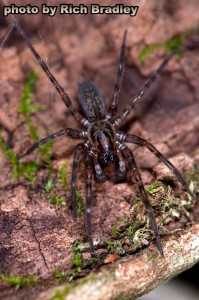 A real live Acrachologists will be leading a Morning Spider Hike and a Night Spider Hike at the Fall Naturalist Rally, September 12, 2015. The Nightfter his presentation  "Elegance and Efficiency: Spiders of Southern Appalachia."
These are just two of the 12 "Kid Friendly" hikes offered by the Friends of Roan Mountain.
Check out the full Kid's Schedule here.
LINKS to More Adventures:
Fall Naturalists Rally – Sept 11-12-13 – brochure and registration
Kid's Schedule for Saturday, Sept 12 – Fall Rally